Moraine Lake Shuttles and Tours
Moraine & Lake Louise Open-Top Shuttle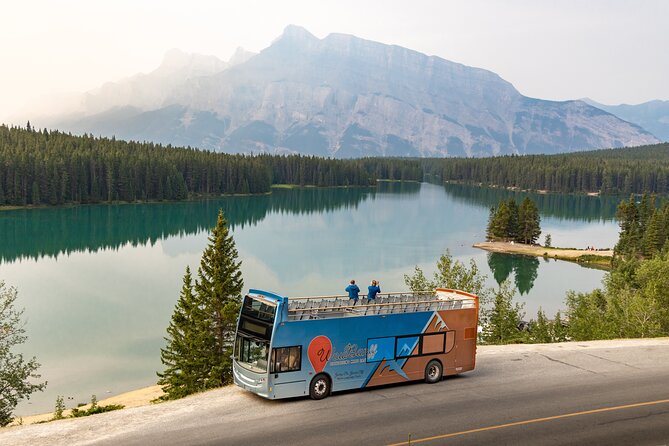 Embark on an exciting ride to beautiful Lake Louise & Moraine Lake. Take in panoramic views & learn about the area from a local host, ready to answer any questions. Marvel at the Canadian Rockies including the famous Mt. Victoria & Valley of the Ten Peaks. Take time for yourself once at the lakes. Many stunning hiking trails are accessed right from the drop-off area. Explore at your own pace. Ride the open top bus to the next lake & end your journey back at the Lake Louise Ski Resort.
Book Moraine & Lake Louise Open-Top Shuttle

Tour Moraine Lake



Shuttle Service between Banff, Moraine Lake and Lake Louise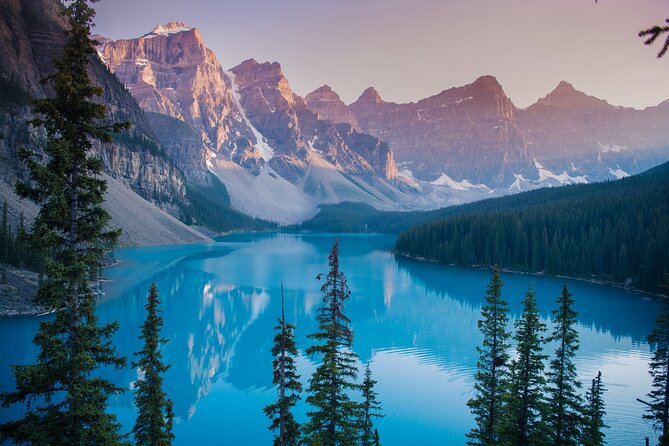 Moraine Lake is closed to public vehicle access in 2023. With new visitation restrictions in place, taking our shuttle service is the best way to guarantee your visit to Moraine Lake, leave the driving to us, and enjoy the breathtaking beauty of Moraine Lake and Lake Louise up close and personal.
Book Shuttle Service between Banff & Moraine Lake, Lake Louise

Tour Moraine Lake



Lake Louise and Moraine Lake Guided tour from Banff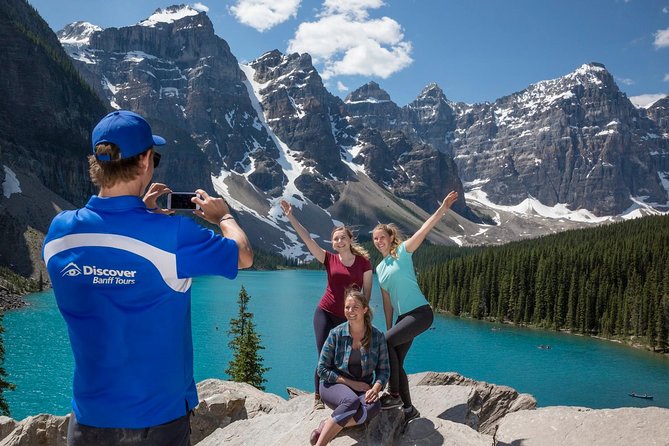 Discover Lake Louise and Moraine Lake on this guided tour from Banff. Located inside the Banff National Park, a UNESCO World Heritage site, the lakes are well-known for their distinct turquoise hues. Gain insight into the area's mountaineering history, admire views of the Valley of Ten Peaks and leave with plenty of frame-worthy photos. Round-trip transportation is included on this small-group tour. Don't miss this seasonal tour that operates from April to November.
Book Moraine Lake Guided tour from Banff

Tour Moraine Lake



Full-Day Lake Louise, Moraine Lake and Icefields Parkway Tour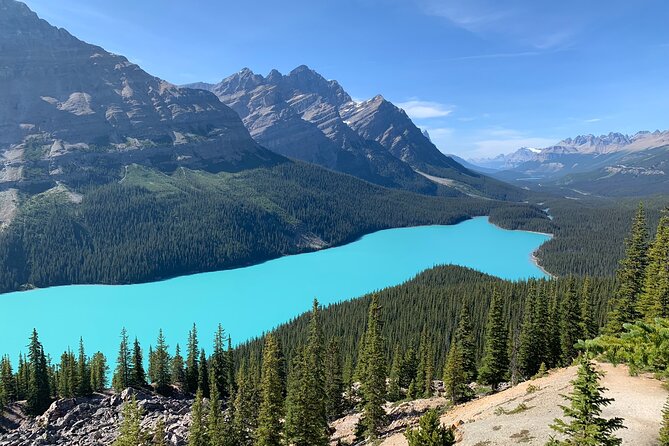 The Rockies boast some of Canada's most spectacular scenery, but the rugged mountain terrain poses a unique set of challenges. On this full-day sightseeing tour, enjoy round-trip travel from Banff and reach far-flung attractions including Lake Louise and the Icefield Parkway in comfort. Stop at picturesque spots including Bow Falls and Moraine Lake, and enjoy personal attention from your guide on this small group tour limited to 22 people.
Book Moraine Lake, Lake Louise and Icefields Parkway Tour

Tour Moraine Lake



Moraine Lake Sunrise and Lake Louise Earlybird Adventure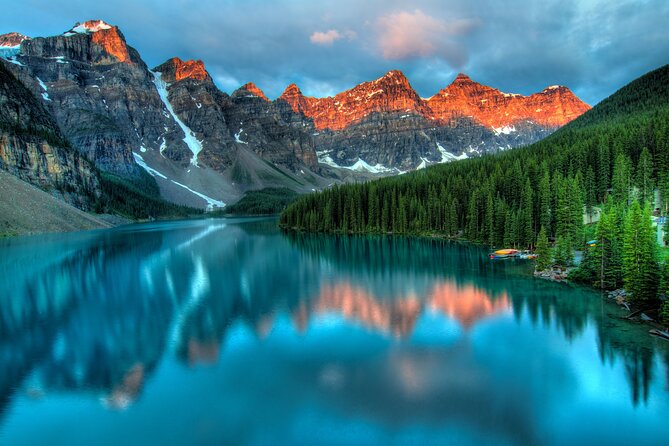 The Earlybird Explorer - Join Banff's top-rated tour operator on this exclusive experience visiting Moraine Lake for sunrise & Lake Louise before the crowds arrive. On this tour, you'll have guaranteed & expedited access to Moraine Lake, where your expert local guide will show you to the best locations to watch the sunrise hit the glaciers above The Valley of the Ten Peaks and the stunning turquoise Moraine Lake.
Book Moraine Lake Sunrise and Lake Louise Tour

Tour Moraine Lake



Lake Louise & Banff & Moraine Lake Tour from Calgary or Banff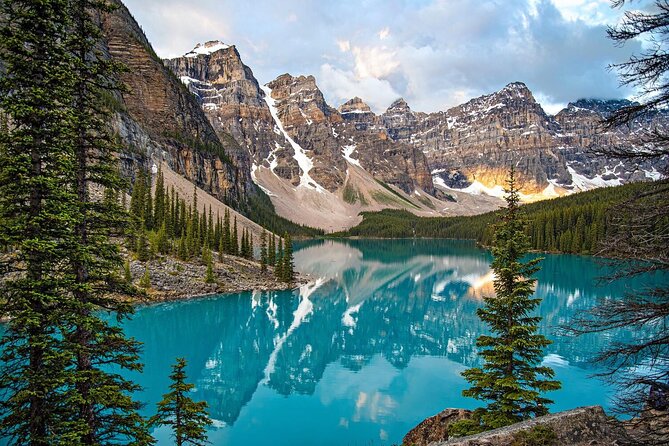 Explore the magnificent scenes of Banff National Park with your small group tour. On this full-day tour, enjoy being picked up from Calgary, Banff or Canmore. Explore the dramatic Lake Louise and Moraine Lake. This iconic stop will offer the opportunity to explore the historic hotel and take some pictures of bright blue waters of Lake Louise.
Book Calgary or Banff to Lake Louise & Banff & Moraine Lake

Tour Moraine Lake



Lake Louise & Yoho National Park (Moraine Lake June to mid-Oct) from Calgary or Banff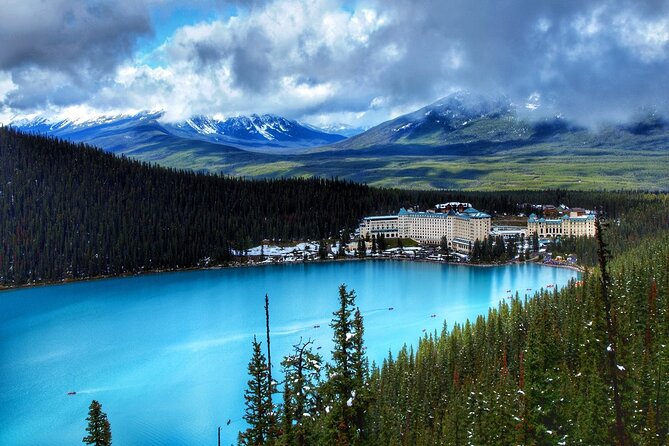 Immerse yourself in stunning Canadian Rockies scenery on this guided tour from Banff to Yoho National Park and beyond. Marvel at Moraine Lake's opalescent waters; learn about the human history of the landscapes; look for moose, bear, and elk, and make a stop at Lake Louise to snap photos of its famously turquoise waters.
Book Lake Louise & Yoho National Park from Calgary or Banff

Tour Moraine Lake



Moraine Lake, Lake Louise & Banff Small Group Adventure Tour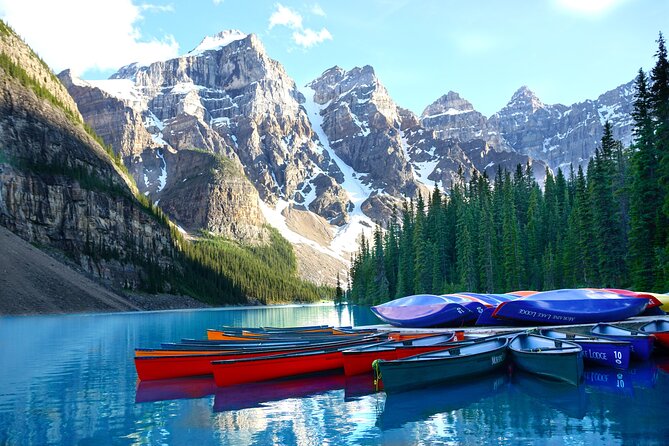 Experience one of the best adventures while holidaying in Banff. Visit Banff National Park's most popular locations as well as a few secret spots. Check out the turquoise glacier-fed lakes, Lake Louise and Moraine Lake, where you can explore the lakeside trails or go kayaking, canoeing, or paddle boarding.
Book Moraine Lake, Lake Louise & Banff Tour

Tour Moraine Lake




About Moraine Lake
Moraine Lake is a stunning glacially-fed lake located in Banff National Park, in the Canadian Rockies of Alberta, Canada. It is one of the most famous and iconic destinations in the Canadian Rockies and is renowned for its breathtaking turquoise-blue waters and stunning surrounding mountain peaks.


Moraine Lake Features
Moraine Lake's Turquoise Waters
The lake's mesmerizing turquoise color is due to the presence of rock flour, which is finely ground rock particles that are suspended in the water. These particles reflect sunlight and give the lake its striking color.


Valley of the Ten Peaks
Moraine Lake is situated in the Valley of the Ten Peaks, which is named after ten prominent peaks that encircle the lake. Mount Fay, Mount Babel, and Mount Wenkchemna are among the notable peaks in the area.


Glacial Origins of Moraine Lake
The lake is primarily fed by the runoff from the nearby Wenkchemna Glacier. As the glacier grinds against the rock, it creates the fine particles that give the lake its unique color.


Moraine Lake Accessibility
Moraine Lake is easily accessible by car during the summer months. The lake is approximately 14 kilometers (8.7 miles) from the popular town of Lake Louise. The road leading to Moraine Lake is open from mid to late June until late September or early October, depending on weather conditions.


Activities
Visitors to Moraine Lake can enjoy a variety of activities, including hiking, canoeing (rentals available on-site), photography, and simply taking in the breathtaking scenery.


Rockpile Trail
The Rockpile Trail is a short and easily accessible hiking trail that leads to an elevated viewpoint offering stunning panoramic views of Moraine Lake and the surrounding peaks. It is one of the most popular spots for taking photographs of the lake.


Moraine Lake's Seasonal Variations
Moraine Lake's appearance can vary significantly depending on the season. During the summer, the lake is surrounded by lush greenery, while in the fall, the surrounding forests change to vibrant shades of red, orange, and gold.

Moraine Lake is a very popular destination, and the parking lot often reaches capacity quickly during peak times. To avoid crowds, it's best to visit Moraine Lake early in the day or later in the afternoon. While Moraine lake is awe-inspiring, visitors are encouraged to respect the natural surroundings and practice responsible tourism to help preserve this beautiful natural gem for generations to come.



Popular Tours in Canada
Hike Jasper | Tour Canadian Rockies | Jasper Wildlife | Athabasca River Rafting | Jasper Wildlife Tours | Whistlers Mountain Skytram | Maligne Lake Boat Cruise | Jasper Columbia Icefield | Rocky Mountain Train Tickets | Maligne Ice Walk | Wildlife Photography Prints | Wildlife on Video | Shopping Jasper | Spirit Island in Jasper | Columbia Icefields Glacier Skywalk | Jasper Maligne Lake Cruise | Vancouver Whale Tours | Tour Moraine Lake | Athabasca Falls | Sunwapta Falls